Throughout the summer the bandstand in Cutts Close is regularly put to good use by 'Bands in the park' on Sundays, funded and hosted by the Town Council. We also host family fun days and similar events and provide facilities for other organisations' events, all helping to make Oakham a pleasant place to live.
Oakham Town Council reopened its three play areas on Saturday 4th July 2020. A deep clean and inspection was carried out and as a result play areas and equipment are suitable to return to use by the public.
Notices  outlining guidelines to be followed as a result of the playground risk assessment will be displayed at all sites. 
Notices (as shown below) will be highly visible at all sites informing users that the equipment has a schedule of cleaning in place and is NOT cleaned by the Council daily and that members of the public use it at their own risk.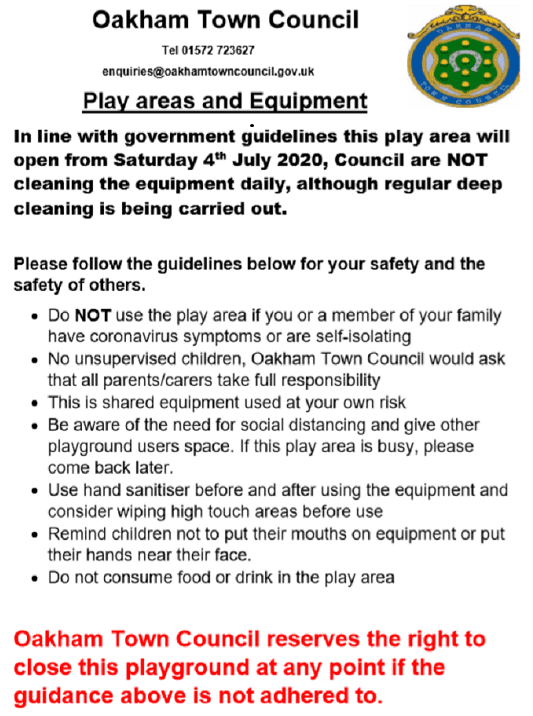 ---
As well as tending the grounds your Council also provides and maintains the play equipment in all three parks. All the equipment is regularly maintained and inspected for safety. However occasionally something is damaged or goes wrong.
 If you see any damage we will be pleased if you will let us know by contacting the Clerk on 01572 723627 or by e-mail: enquiries@oakhamtowncouncil.gov.uk. This way we can all help to ensure the equipment is safe for our children to use.
---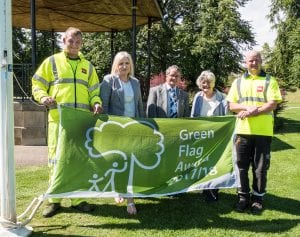 Awarded Green Flag status in 2016 & 2017
Church Street
Oakham
LE15 6AA
Car park 100m away
HM Queen Elizabeth II Bandstand
Toddlers play area
Picnic Area
Skatepark
Download the Cutts Close Management Plan
---
Royce's Recreation Ground
Princess Avenue
Oakham
Rutland
LE15 6PQ
Toddlers play area
Outdoor exercise equipment
Free parking
---
Willow Crescent Play Area
Willow Crescent
Oakham
Rutland
LE15 6EH
Barleythorpe Road
Oakham
Rutland
LE15 6RQ